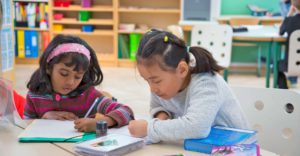 Lesson content
During their two years in the reception stage, pupils learn the basic principles of our cultural tools: reading, writing and arithmetic. The children learn both German and English using the tried-and-tested immersion method. This means that they can switch seamlessly from one language to the other, depending on who has addressed them or to whom they are talking.
In the primary stage, too, the lesson content goes beyond what is specified in the state curriculum. Cosmic education covers general subjects such as geography, biology, chemistry and history, and shows how these subjects are interrelated. Meals together, afternoon lessons and breaks add to the school day.
Children can decide to work individually, with a partner or in a group. Every day, the teacher holds class discussions for small or large groups. In addition to lessons in the school, there are regular educational trips – to museums and zoos, for example. These build on the subjects covered in lessons.
School Calendar: Click here