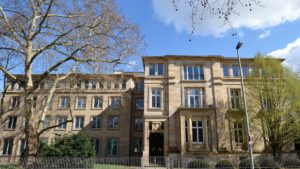 What distinguishes us:
International. Bilingual. Montessori. School
Four words describe the educational concept that lets children be children, whilst preparing them for the future in all its complexity.
I is for International
We have children from more than 20 nations learning together in the groups and classes in our school. In many cases, they speak neither English nor German at home, and come from a wide variety of cultures and social backgrounds. For children, such diversity is seen as normal, unless adults teach them to think otherwise. As a school, we can and want to uphold and encourage this natural interaction with people from many nations, no matter the colour of their skin, what language they speak or customs they practise. We see this as opening up opportunities for the child's future.
B is for Bilingual
ibms uses the immersion method, which is internationally recognised as the most effective way of imparting a language in the school environment. Nido and the children's house offer bilingual as well as purely English-speaking groups. At the primary school, we work in a bilingual setting at all times. The children are cared for by two teachers in parallel, each speaking in their own language.
M is for Montessori
Supervising, nurturing, encouraging and supporting children within the Montessori educational ethos means:
– Individual support
– Holistic education with as much freedom as possible
– Instilling the values of respect and responsibility
– Being aware of and acquiring the skills that will be needed in
the future,
such as flexibility, social competence and well-developed self-esteem
S is for School
We describe ourselves traditionally as a school, since our institute has its roots in the English language. Our school consists of Nido, the children's house, reception stage and the primary stage (grades 2-4).
The classrooms, the library and our country house have been designed to primarily reflect a child's world view, rather than that of an adult. All our teachers are fully Montessori trained.